ves esta página sin formato por que esta hecha cumpliendo el estándar web CSS 2.
tú navegador no soporta este estándar, o tienes dicho soporte desactivado.
si estas en el primer caso,
actualízate
. merece mucho la pena.
---
Inicio
>
Historias
> Caer de cú polo universo
Caer de cú polo universo
Que os libros son esenciais na aprendizaxe das cativas e cativiños das nosas escolas está demostrastradísimo, e se aínda porriba, estes libros veñen acompañados dunhas ilustacións que fan que te metas nel coma unha viaxeira cuxa aventura sexa un texto marabilloso, convírtense nun deses libros que desexas que non remate nunca...
Un deses libros é "Caer de cú polo universo" de
Estíbaliz Espinosa
para
Apiario Editora
. Un libro que acerca o universo ás crianzas de maneira sinxela, divertida e poética.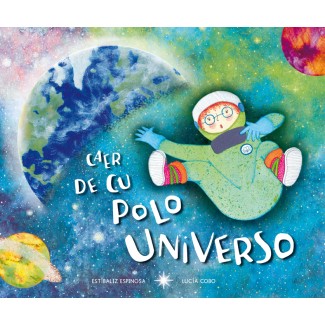 A pluma de Estíbaliz non falla e describe de maneira certeira que a astronomía non é só para uns poucos, senón que é unha ciencia que se pode achegar a calquera sabéndoa levar cunha man dóce e agradábel, como ben fai ela, a quen queira ir por esta viaxe.
Se non vos fiades de mín, aquí abaixo déixovos o booktrailer. Un petisco para ir entrando neste asombroso mundo cosmolóxico.
Caer de cu polo universo. Estíbaliz Espinosa/Lucía Cobo ( Booktrailer ) from apiario on Vimeo.
Pedagogía
,
Literatura
,
libros
,
Infantil
,
"Estíbaliz Espinosa"
,
Editora
,
Astronomía
,
Apiario
2016-02-26 11:09 | 11 Comentarios
Referencias (TrackBacks)
URL de trackback de esta historia http://gomadeborrar.blogalia.com//trackbacks/76184
Comentarios
1

A astronomía te engancha.
2

| | |
| --- | --- |
| De: Jim Harxmon | Fecha: 2019-01-11 03:27 |
5

| | |
| --- | --- |
| De: Sue | Fecha: 2019-03-26 16:02 |
































































































































































































































8

| | |
| --- | --- |
| De: Addu | Fecha: 2019-04-25 11:58 |


I want to share this information with you people, here you can easily play online free hack for free imvu credits card game and entertain your Boring times without any condition.

9

| | |
| --- | --- |
| De: Lucille | Fecha: 2019-06-24 17:10 |

This blog is very nice.I really like such a fantastic written blog.I will keep coming here again and again.Visit my link as well. download game mobile legend
11

If you're selling your product or giving it as a gift, you can transfer your coverage to the future of Gaming new owner. You just have to provide the name of the person you're transferring the plan to. Solution for Mac The transferee must then contact our Geek Squad tech support and provide their address, email and phone number. The plan holder must have the original documentation to receive coverage. That's when our part comes into play.
Regards: software in pc